Do you know the importance of building the email list? How do you collect the email from your reader? Of course, you might be using some plugins for that. But the matter is which plugin you use for that. A poorly coded plugin can affect your site very badly. So, how to choose the best plugin? What matters in the case of a plugin for email optin?
There are free and premium plugins for email form optin. If a plugin is free, it doesn't mean that it is bad. Instead, it means there will be some features missing in it. We know that the top plugins are always the premium and not free plugins. So, which are the best Email Form Optin plugins for WordPress?
Best Email Optin Form Plugins For WordPress
These are the best two email optin form plugins for WordPress. Both of them are premium plugins, which worth the price. And do you know what makes these plugins the best?
Less size.
Less number of requests.
Less load on the server.
More page loading speed.
User-friendly.
OptinMonster
One of the best lead generation software for online business websites and blogs. A premium tool which is a bit costly but worth the price. You can design optin forms easily and with live previews.
Features that makes it the best are:
Different designs or types of forms are available in it, which makes it more worth for the money you pay. And I have to say that, OptinMonster has eight form types including the full screen, floating bar and canvas optin-which is not available in Bloom.
Can integrate with many email marketing platforms. So, you can continue using your favourite email marketing software with OptinMonster. If you don't have an account in email marketing software, I recommend Aweber. You can get the free trial by clicking on the below image. Try Aweber and buy the premium version if you are interested.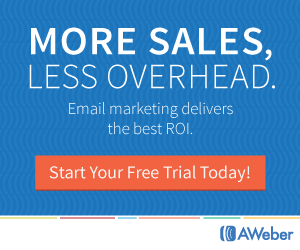 Fast loading and less number of requests make OptinMonster perfect for websites and blogs. So, that it will not affect the site severely.
OptinMonster enabled Locked Content. So, all features in Bloom is available in OptinMonster now.
Bloom
Another excellent plugin by Elegant themes. You need a membership in Elegant themes to download Bloom. And there is no free plan for Bloom. So, you should sign up for the premium plan in Elegant Themes to download this. And the best part is, if you have a membership in Elegant themes, you can download and use everything by Elegant themes which include 87 WordPress themes and six plugins without any extra charges. Isn't that nice 🙂
Features :
Different form types are available.

Pop Up
Fly In
Below Post
Inline
Locked Content
Widget
What is Locked Content Optin Form?
If you have a free resource and want your readers to subscribe to the newsletter to get access to it, then Locked content optin is what you need there. It's similar to locking content and unlocking it in exchange for a like or share.
The collection of designs make it easier to create and install subscribe box. You can change the colour and behaviour of the optin form from the settings page to which you will be redirected after you click Next. You can preview the changes by clicking on the Preview Button.
Integrations with many email marketing software make Bloom a perfect Email optin plugin. Almost all email marketing software integrations are available.
You can also add Bloom on several platforms like WordPress, Blogger, Drupal. And so I think, it worth the price.
OptinMonster or Bloom? Which Is Better?
Quality :
Based on quality both plugins seems to be amazing. The different types of forms are useful in various situations. And the wide range of designs and settings helps to manage it quickly.
Features :
How can we compare the features and come to a decision between these two plugins? Because both of these plugins have their unique features and we can't say that which is better than the other comparing the features.
OptinMonster has eight and Bloom have six optin form types.
Live preview is available in OptinMonster, which is not available in Bloom. But you can preview it after making every change by clicking on Preview button.
Full screen, Floating bar and Canvas optin available in OptinMonster, which is not available in Bloom.
Locked content optin is available in Bloom and that is not available in OptinMonster.
Integration with many email marketing platforms are available in both the plugins.
Price :
Both of the plugins are premium and we have to buy it to use.
OptinMonster starts at $9 per month for the monthly plan and for the annual plan it starts with $49 per year.
For Bloom, you have to take a membership in Elegant themes which costs $69 for the Personal plan.
OptinMonster Pricing – Monthly Plans
OptinMonster Pricing-Annual Plans
Bloom Pricing
Considering all these I think both are equally good and the we have to decide which plugin to use by considering the needs. If you need a full-screen optin, you should buy OptinMonster. Simultaneously, if we think about bloom, if we take a membership in Elegant themes, you will get access to all their plugins and themes.
So, these are the best plugins available and we recommend you to use these plugins for better performance and conversion.